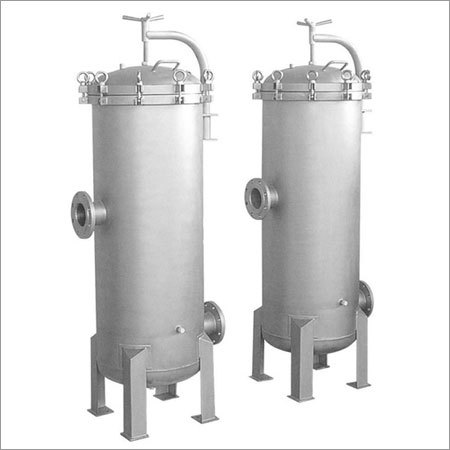 Titanium Tube Heat Exchanger
Product Code : 03
3000 USD ($)
Price And Quantity
Minimum Order Quantity

:

1
Unit of Measure

:

Piece/Pieces
Product Specifications
Condition

:

New
Structure

:

tube Heat Exchanger
Product Description
We are instrumental in manufacturing, exporting and supplying Titanium Tube Heat Exchanger. It is suitable for both high flow rates and low pressure fluids. The offered exchanger is used in chemical, defense, aerospace, construction, marine culture, pharmaceutical and other fields as well as oil and gas refineries. This exchanger is manufactured with the use of high grade titanium and sophisticated techniques. We deliver the provided Titanium Tube Heat Exchanger in various diameters, lengths, wall thicknesses and eccentricity.

Key points:

Ideal for snow melting, solar heating and oil cooling applications
Transfer heat between one fluid to another
Excellent mechanical property
Corrosion resistance
Further Details:

Heat Exchanger Tubes

Primary application of our Stainless Steel / Titanium Tubes is in manufacturing of Shell & Tube Type Heat Exchanger.

Shell and Tube Heat Exchangers

Shell and Tube Heat Exchangers are well engineered devices that help in transferring heat from one fluid to other, and from one medium to another medium. The fluid travels through a set of tubes while another fluid progresses through the shell enclosing tubes. The Shell and Tube Heat Exchanger is suitable for processes that involve high temperature & pressure, and also in cases where fluid consists particles.

There are 2 types of Shell & Tube Heat Exchangers applicable in numerous industrial segments.

U-Tube Heat Exchangers: It consists of a set of U-shaped tubes which are fixed to a Tube Sheet. These tubes get support from flow baffles or tube support, and sit in a shell that is welded or bolted to the Tube Sheet. While fluid passes through the Shell on exterior surface of the Tubes, rest of the fluid is diverted to the tubes with the use of header assembly. This assembly is fastened to the Tube Sheet, either by bolting or welding.

Straight Tube Heat Exchangers: Both the ends of a group of straight tubes are tightly sealed to 2 Tube Sheets, and further bolted/ welded to the Shell. Fluid is passed through the Tubes, and rest of the liquid travels through the Shell. This type of heat exchanger finds usage where fluid has high fouling properties. They are also suitable in application areas with high occurrence of temperature cross. Moreover, the straight tube structure ensures convenient cleaning of the tubes.

There are numerous factors that are to be taken into consideration while fabricating Heat Exchanger Tubes. Some of the factors include dimensional tolerances for diameter, length, wall thickness, eccentricity, etc., corrosion resistance, requisite mechanical properties and surface finish.
Hamil Metals Co., Ltd is among the leading manufacturers offering Stainless Steel Heat Exchanger Tubes in seamless and welded construction. The exchangers are widely used for Power Generation in Nuclear, Thermal as well as Solar Power Plant. They are also applicable in Oil & Gas Industry, Refinery and Petrochemical Sector, Chemical and Fertilizer Plants, Defence Industry, Atomic Energy & Aerospace, Process Industries, Pulp and Paper Industries, etc.

Contact Us
Taicheng Road, Baoji, Shaanxi, 400093, China
Phone :86-917-3637145